The week before the Chicago Bears played the Indianapolis Colts in the Super Bowl in February 2007, the production company Element79 shot parts of a Super Bowl commercial for Frito-Lay in the parlor of our church titled "This Is History." The scenes with the pastor's family, the women sitting in front of the chalkboard, and the little girl sitting next to the helmet were shot in the church.  The other scenes were shot in a private residence in the Beverly neighborhood and in a nearby convenient store. Below is content from Frito-Lay's web site explaining the commercial.
February 4, 2007
Frito-Lay Adds Commercial to Commemorate Historic Super Bowl
'This Is History' Ad Celebrates Milestone
Click Here to View Ad
Plano, TX (February 3, 2007) – Frito-Lay, a long-time partner with the NFL, will add a new ad to its Super Bowl XLI line up that celebrates our consumers and the historic nature of the big game. The ad, titled "This Is History," features moments with people as they enjoy and celebrate an historic moment in the NFL and for the country – the first time ever that two African-American coaches lead teams competing in the Super Bowl.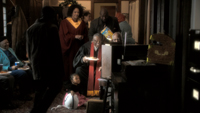 "This milestone deepens the connection people across the country have with the NFL and the Super Bowl," said Jaya Kumar, chief marketing officer, Frito-Lay North America. "Once we knew the teams playing in the Super Bowl and the significance of the game, we wanted to celebrate this moment in time."
The ad is composed of a series of vignettes showing consumers and football fans coming together to root for their favorite teams and to mark the historic game. The ad was created by Element 79, a long-term advertising partner with PepsiCo and its divisions.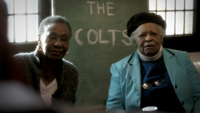 This milestone game and the new ad is a powerful start for Black History Month. After the Super Bowl, consumers will be able to view the ad at www.fritolay.com.
In addition to the "This Is History" ad, Frito-Lay's Doritos brand will be airing the first-ever consumer-created Doritos tortilla chip ad during the Super Bowl.
Frito-Lay and its parent, PepsiCo, have a long standing commitment to diversity and inclusion. Frito-Lay North America is the $10 billion convenient foods division of PepsiCo, which is headquartered in Purchase, NY. In addition to Frito-Lay, PepsiCo divisions include Pepsi-Cola, Quaker Foods, Gatorade and Tropicana.